Here is the binding procedure for the F4 Betaflight FC (SPI ExpressLRS Receiver)
This binding procedure could be used for the F4 1S 5A AIO Brushless Flight Controller (ELRS 2.4G) and
F4 1S 12A AIO Brushless Flight Controller(V2)
1. (Connect through the Betaflight)
Power the flight controller by connecting USB. Please make sure that the port driver of the flight controller is correctly installed on the computer, then open Betaflight Configurator(Latest version) to connect, enter to the "Receiver" interface, and then click "Bind Receiver":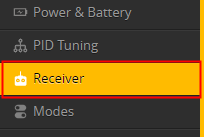 The Green LED at the flight controller will flash quickly, which means that the SPI ELRS receiver enters the binding mode. There is another way to make the receiver enter the binding mode: After connecting to the Betaflight configurator, move to the CLI interface and enter "bind_rx" in the command line: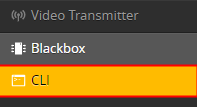 (Connect through the Bind button)
Press the bind button on the flight controller
LED light and the Bind button: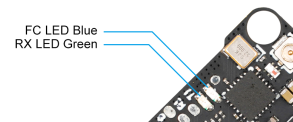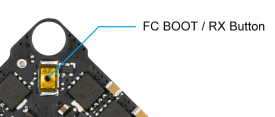 2. After correctly connecting the 2.4G ELRS TX module to your Opentx radio transmitter, copy the latest version of ELRS.LUA file to the SD card in the remote controller. The directory is "SD Card/Scripts/tools/LUA", and then click "Bind" to link with the SPI ExpressLRS receiver. The Green LED will be on solid, this means the bind is successful.
Note: You need to adjust the Packet Rate to 500Hz from the ELRS interface of your radio controller before binding.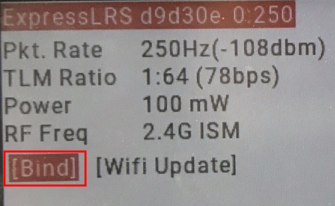 3. After the binding is successful, please re-power for the radio transmitter, and then the Green LED at the flight controller will be solid, and the telemetry can be received at the same time.
The meaning of the LED status of the SPI receiver:
The LED is getting to be solid, indicating that the bind is successful or the connection and communication is normal, the LED flashing quickly indicates that the receiver is in binding mode, and the LED flashing slowly indicates that there is no signal received from the radio controller.