Here is the binding procedure for all the Betaflight FC board with SPI receiver. It also works with the drone that has this FC board inside.
The most common SPI receiver use TI CC2500 RF chip hardware. Betaflight firmware support several protocol based on this hardware.
Frsky D8 (named FRSKY_D in Betaflight)
Frsky D16 FCC (ACCST 1.X version, named FRSKY_X in Betaflight)
Frsky D16 LBT (ACCST 1.X version, named FRSKY_X_LBT in Betaflight)
Futaba S-FHSS (named SFHSS in Betaflight)
Pilot could use the Betaflight Configurator to confirm and change the protocol according to your need.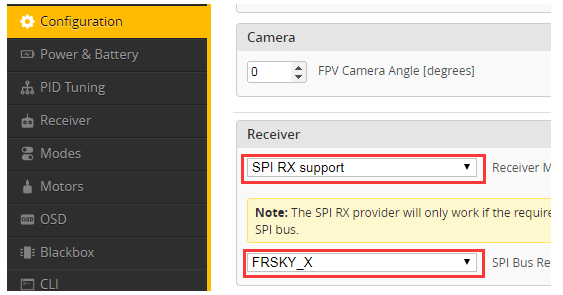 The following FC boards or drones could follow this manual.
The following FC boards are discontinued.
How To Bind
All the SPI receiver FC boards share the same binding procedure.
Connect the FC board/drone with the battery, and wait for the system load complete. Then press the bind button on the FC board. The receiver LED will is on solid, which means entering the binding mode.
Make the radio transmitter into binding status.
Binding is successful when receiver LED on FC board flashes.
Power on the FC and radio transmitter again, if receiver LED on the FC board is on solid, which means bind is successful and the connecton is functional.
Note:
Please make sure the receiver protocol in the FC board and the radio transmitter are the same. If there is confusion about the setting on the board, we suggest you to use the stock CLI that we shared on our website.
ACCST 1.X or ACCST 2.X
Betaflight firmware does NOT support the new ACCST 2.x protocol version. If you use the newest radio transmitter from Frsky office with the newest Frsky ACCST 2.x protocol. It is NOT compatible with the receiver. The new 2.x protocol is private and could not be supported by Betaflight firmware until it is open.
Solution: Down grade the Frsky radio transmitter with the firmware that supports ACCST 1.X protocol.
Unofficial Collection of FrSky Firmwares on Github.