The default firmware of the LR2 SE (ELRS 2.4G) and LR3 (ELRS 2.4G) manufactured by our company is
ELRS V2, which can be updated to ELRS V3 protocol firmware now.
If you want to upgrade your old radio controllers, follow the steps below:
1. Download the corresponding firmware of the radio controller;
LiteRadio_3_SX1280_3.0.0_ELRS3_RC1.bin
LiteRadio_2_SE_V2_SX1280_3.0.0_ELRS3_RC1.bin
2. Download the BETAFPV Configurator V2.0-RC1 version , then install it;
Release BETAFPV Configurator V2.0.0-RC1 · BETAFPV/BETAFPV_Configurator · GitHub
3. Note: Only BETAFPV Configurator V2.0-RC1 version can be chosen if you want to configure the
radio controller, and you must select the serial port like the pictures below when
connecting to the configuration page.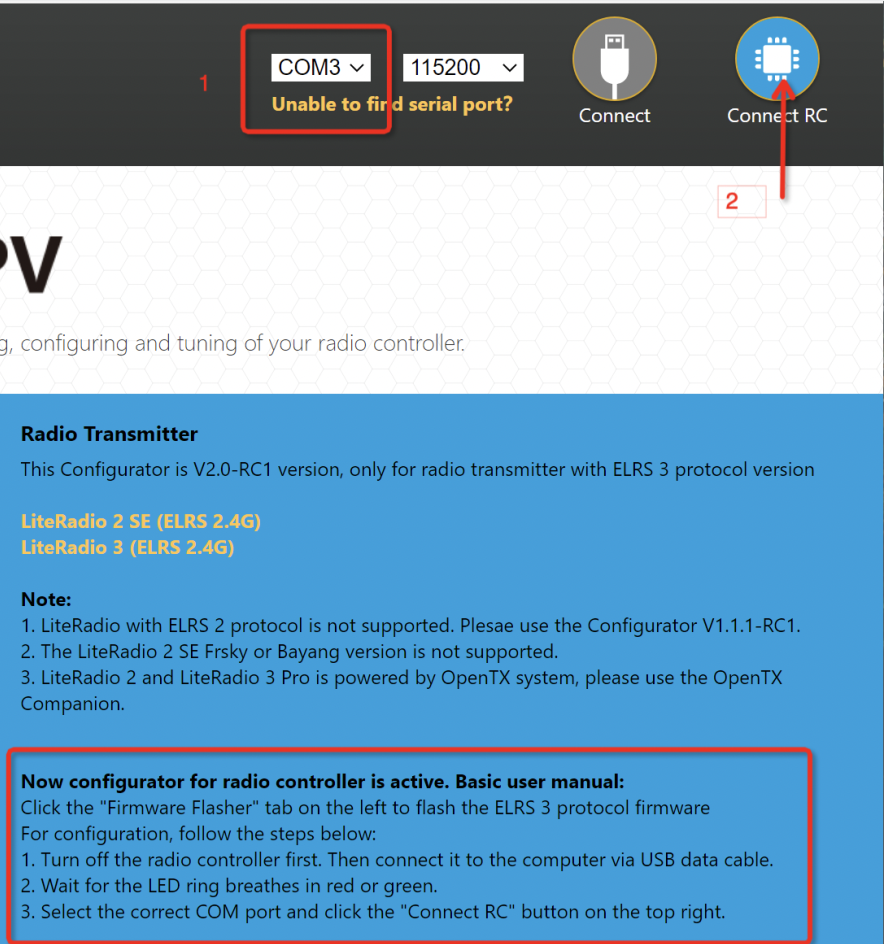 Note from BETAFPV:
Due to the ELRS V3 Version and Configurator still being a release candidate, if you encounter any issues or want to provide any feedback, please feel free to do so by filling up the form attached below:
https://docs.google.com/forms/d/e/1FAIpQLSe5w2kTQOAkn_7PwTMPkSXblSmAslRiJA9WMxswsnDRsWLkgg/viewform